The Book Club will usually meet on the third Tuesday of every month with a few exceptions.  Our meetings are held at in Youth Room from 7:00-8:30.
People are welcome to bring a light snack.
Reading the book isn't necessary for anyone to attend!
No sign up required. For more information, contact Donna.
Upcoming Books:
August 2023
Children of God                                Mary Doria Russell                        451 pp
Mary Doria Russell's debut novel, The Sparrow, took us on a journey to a distant planet and into the center of the human soul. A critically acclaimed bestseller, The Sparrow was chosen as one of Entertainment Weekly's Ten Best Books of the Year, a finalist for the Book-of-the-Month Club's First Fiction Prize and the winner of the James M. Tiptree Memorial Award. Now, in Children of God, Russell further establishes herself as one of the most innovative, entertaining, and philosophically provocative novelists writing today. The only member of the original mission to the planet Rakhat to return to Earth, Father Emilio Sandoz has barely begun to recover from his ordeal when the Society of Jesus calls upon him for help in preparing for another mission to Alpha Centauri. Despite his objections and fear, he cannot escape his past or the future. Old friends, new discoveries and difficult questions await Emilio as he struggles for inner peace and understanding in a moral universe whose boundaries now extend beyond the solar system and whose future lies with children born in a faraway place.
September 19, 2023
The Marriage Portrait                       Maggie O'Farrell                      355 pp
Florence, the 1550s. Lucrezia, third daughter of the grand duke, is comfortable with her obscure place in the palazzo: free to wonder at its treasures, observe its clandestine workings, and devote herself to her own artistic pursuits. But when her older sister dies on the eve of her wedding to the ruler of Ferrara, Modena and Reggio, Lucrezia is thrust unwittingly into the limelight: the duke is quick to request her hand in marriage, and her father just as quick to accept on her behalf. Having barely left girlhood behind, Lucrezia must now enter an unfamiliar court whose customs are opaque and where her arrival is not universally welcomed. Perhaps most mystifying of all is her new husband himself, Alfonso. Is he the playful sophisticate he appeared to be before their wedding, the aesthete happiest in the company of artists and musicians, or the ruthless politician before whom even his formidable sisters seem to tremble? As Lucrezia sits in constricting finery for a painting intended to preserve her image for centuries to come, one thing becomes worryingly clear. In the court's eyes, she has one duty: to provide the heir who will shore up the future of the Ferranese dynasty. Until then, for all her rank and nobility, the new duchess's future hangs entirely in the balance.
October 17, 2023
Dark Matter                                        Blake Crouch                                 352 pp
One night after an evening out, Jason Dessen, forty-year-old physics professor living with his wife and son in Chicago, is kidnapped at gunpoint by a masked man, driven to an abandoned industrial site and injected with a powerful drug. As he wakes, a man Jason's never met smiles down at him and says, "Welcome back, my friend." But this life is not the one he knows. His wife is not his wife; his son was never born; and he's not an ordinary college professor, but a celebrated genius who has achieved something impossible. Is it this world or the other that's the dream? How can he possibly make it back to the family he loves? The answers lie in a journey more wondrous and horrifying than anything he could have imagined–one that will force him to confront the darkest parts of himself as he battles a terrifying, seemingly unbeatable foe.
November 21, 2023
The Beauty in Breaking                    Michele Harper                     304 pp
Michele Harper is a female, African American emergency room physician in a profession that is overwhelmingly male and white. Brought up in Washington, D.C., in an abusive family, she went to Harvard, where she met her husband. They stayed together through medical school until two months before she was scheduled to join the staff of a hospital in central Philadelphia, when he told her he couldn't move with her. Her marriage at an end, Harper began her new life in a new city, in a new job, as a newly single woman. In the ensuing years, as Harper learned to become an effective ER physician, bringing insight and empathy to every patient encounter, she came to understand that each of us is broken–physically, emotionally, psychically. How we recognize those breaks, how we try to mend them, and where we go from there are all crucial parts of the healing process.
December 19, 2023
Grandma Gatewood's Walk      Ben Montgomery                        288 pp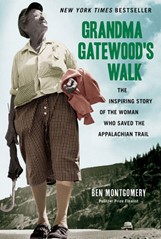 Emma Gatewood told her family she was going on a walk and left her small Ohio hometown with a change of clothes and less than two hundred dollars. The next time anybody heard from her, this genteel, farm-reared, 67-year-old great-grandmother had walked 800 miles along the 2,050-mile Appalachian Trail. And in September 1955, having survived a rattlesnake strike, two hurricanes, and a run-in with gangsters from Harlem, she stood atop Maine's Mount Katahdin. There she sang the first verse of "America, the Beautiful" and proclaimed, "I said I'll do it, and I've done it." Grandma Gatewood, as the reporters called her, became the first woman to hike the entire Appalachian Trail alone, as well as the first person—man or woman—to walk it twice and three times. Gatewood became a hiking celebrity and appeared on TV and in the pages of Sports Illustrated. The public attention she brought to the little-known footpath was unprecedented. Her vocal criticism of the lousy, difficult stretches led to bolstered maintenance, and very likely saved the trail from extinction.
 Want a sneak peak at what we will be reading in 2024? Check them out here.